It doesn't seem like it, but it's been one year since I first pushed publish. I can never think of anything interesting to write about, but I write anyway. One of the best parts of blogging is the people I've met. Donna, Bossy Betty, McGuffy Ann, Crafty Sue and others. I've enjoyed getting to know you through you blogs. Thank you my "virtual" friends for all of your nice comments.
Counting Blessings: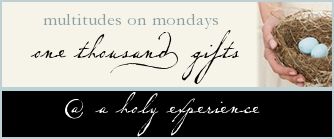 10. "Virtual" friends
11. Stray cats
12. Raspberry preserves with seeds
Have a blessed week!!!